HIMSS & Health 2.0 Health Conference & Exhibition
7 June @ 06:00

-

9 June @ 16:00

UTC+0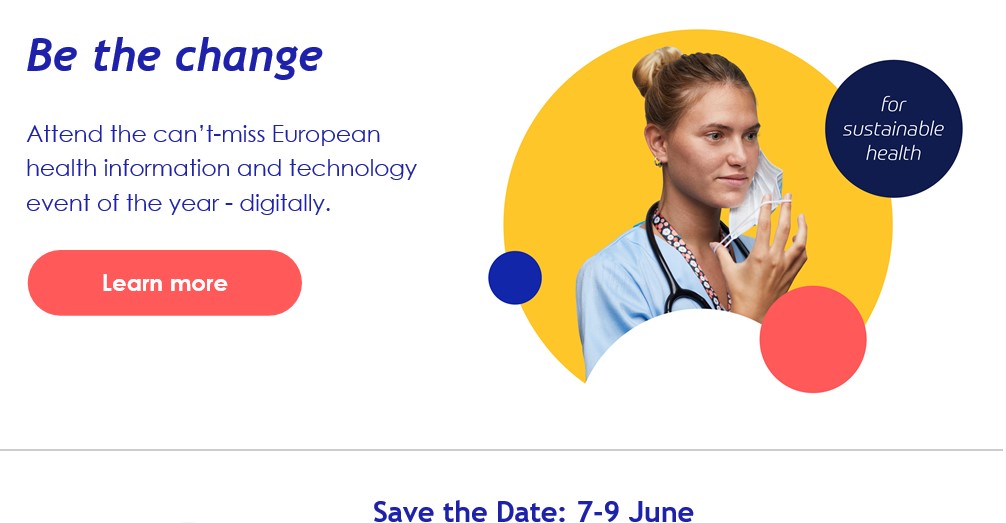 Featuring best practices and thought leadership amongst Europe, the HIMSS21 & Health 2.0 European Health Conference encompasses virtual engagement for attendees as the world makes the transition to a new normal. Network with forward-thinking peers and solutions providers exploring innovative approaches to collaborations, sustainability and precision and transforming health and care in Europe.
HIMSS & Health 2.0 Health Conference & Exhibition, "where professionals throughout the European health ecosystem connect for the education, innovation and collaboration they need to reimagine health and wellness for everyone, everywhere.
Healthcare Information and Management Systems Society, Inc. (HIMSS) is a global advisor and thought leader supporting the transformation of the health ecosystem through information and technology. As a mission-driven non-profit, HIMSS offers a unique depth and breadth of expertise in health innovation, public policy, workforce development, research and analytics to advise global leaders, stakeholders and influencers on best practices in health information and technology. Through our innovation engine, HIMSS delivers key insights, education and engaging events to healthcare providers, governments and market suppliers, ensuring they have the right information at the point of decision.Headquartered in Chicago, Illinois, HIMSS serves the global health information and technology communities with focused operations across North America, Europe, the United Kingdom, the Middle East and Asia Pacific. Our members include more than 80,000 individuals, 480 provider organizations, 470 non-profit partners and 650 health services organizations.