Focus Article: Next Adopters' Thematic Workshops
During the implementation phase of JADECARE, ten Thematic Workshops were executed from May to July 2022. While the first Thematic Workshop from Work Package 7 took place fully online, the other workshops were mainly held on-site in a hybrid format with the possibility to participate online. On average, 10-20 people from different countries attended the workshops to share key insights and experiences on the implementation process so far.
The workshops were hosted by nominated 'hosting Next Adopters'. In this role, Next Adopters gained visibility and were able to strengthen their stakeholders' network. Through collaborative self-evaluation they shared learnings and experiences during the first phase of implementation.
In each Thematic Workshop, specific topics were addressed and discussed with participants of those Next Adopters of JADECARE implementing the same adaptations in their sites such as risk stratification, vertical and horizontal integration with focus on integrated care services, stakeholder engagement and patient involvement or tele-rehabiliation.
The Thematic Workshops had three overarching key roles and corresponding aims:
Bring visibility to Next Adopters at local, regional and national level and boost communication with stakeholders, which are important for the sustainability.
Intermediate self-evaluation of the progress of the implementation with a potential to start the next implementation phase, including fruitful discussion on the successes and obstacles.
Give structured feedback regarding the chosen methods to plan and support implementation.
The two-day Thematic Workshops were organized and conducted according to a similar scheme. Depending on different circumstances, the design/agenda was individually adapted in order to meet the needs of participants.
Overall, the first day started with a welcome by the hosting Next Adopter and the Good Practice Leader. During the first session, each Next Adopter team presented the current status and results of the JADECARE implementation. The presentations highlighted KPIs, problems and unexpected findings – solutions and handling, learnings and experiences as well as practical hints for other Next Adopters. In addition, it was also shown how much these elements were a strength or a weakness. Based on that, first approaches and suggestions were outlined how to improve the management in the second implementation phase.
Subsequently, work sessions (part 1) were performed in order to enable Next Adopter teams to reflect and discuss on their implementation experience on bottlenecks, barriers, facilitators, challenges and learnings. For this, different methods were used such as digital tools (e.g., MURAL) or classical approaches (e.g., post-its). The first day closed with a joint activity like a social event or visiting a local Good Practice setting. In the Region of North Denmark (WP5 workshop), the group participated in a city walk, focusing on "Aalborg Development from an industrial town to knowledge city with a focus on the waterfront, healthy outdoor areas and quality of life." In Estonia (WP6), the site visit to the Viljandi Hospital "new hospital & primary care centrum" was a great success. In Lucca, Italy and Zagreb, Croatia (WP5 workshops) Next Adopters enjoyed guided city walks and social dinners. In Strasbourg (WP7 workshop) the participants could benefit from a site visit to one of the original Good Practices sites. On the WP8 workshop in Seville, Spain, the participants exchanged more experience during a social dinner.
The second day of the Thematic Workshops mostly focused on follow up work sessions (part 2) and a sustainability part. In mixed breakout groups between Next Adopters and Good Practice experts, results from work session part 1 were discussed and evaluated with special attention to further implementation steps. Main conclusions of the two work sessions on implementation experiences were identified and included the following:
New developments for information and communication Technology solutions needs time
COVID-19 pandemic was a barrier and a facilitator at the same time
Active involvement of all relevant stakeholders from the beginning
Need of a simple system
Involve health services and all areas: regulations, material and technological equipment, information systems, care organization and human resources, among others.
Set realistic deadlines and schedules (considering the administrative procedures and the system's capabilities)
The sustainability session raised Next Adopters' awareness on how to strengthen the fitness of the implemented practice after the JADECARE project ends in 2023. Some key elements that support the sustainable implementation of the practices when JADECARE ends comprised the following:
Involve the political system or relevant administration departments/Intensive policy dialogue: get ministry of health involved, make proposals for policy projects and change/adapt legislation
Keep the communication flexible and transparent to all stakeholders and keep involving them –that ensures ownership.
Move from project logic to transformation processes
Identify super users/local ambassadors –they are vital in the long term.
Standardized methodology, procedures, and guidelines
Dissemination and spill over to other projects/fields of operation
As the next step, results of the thematic workshops will be evaluated and processed with regard to major problems and successes which have occurred but also learnings and strengths of Next Adopters and with regard of answers to the question: How to achieve sustainability of implementation after JADECARE? Key learnings, similarities and differences will be compiled and shared with the Consortium.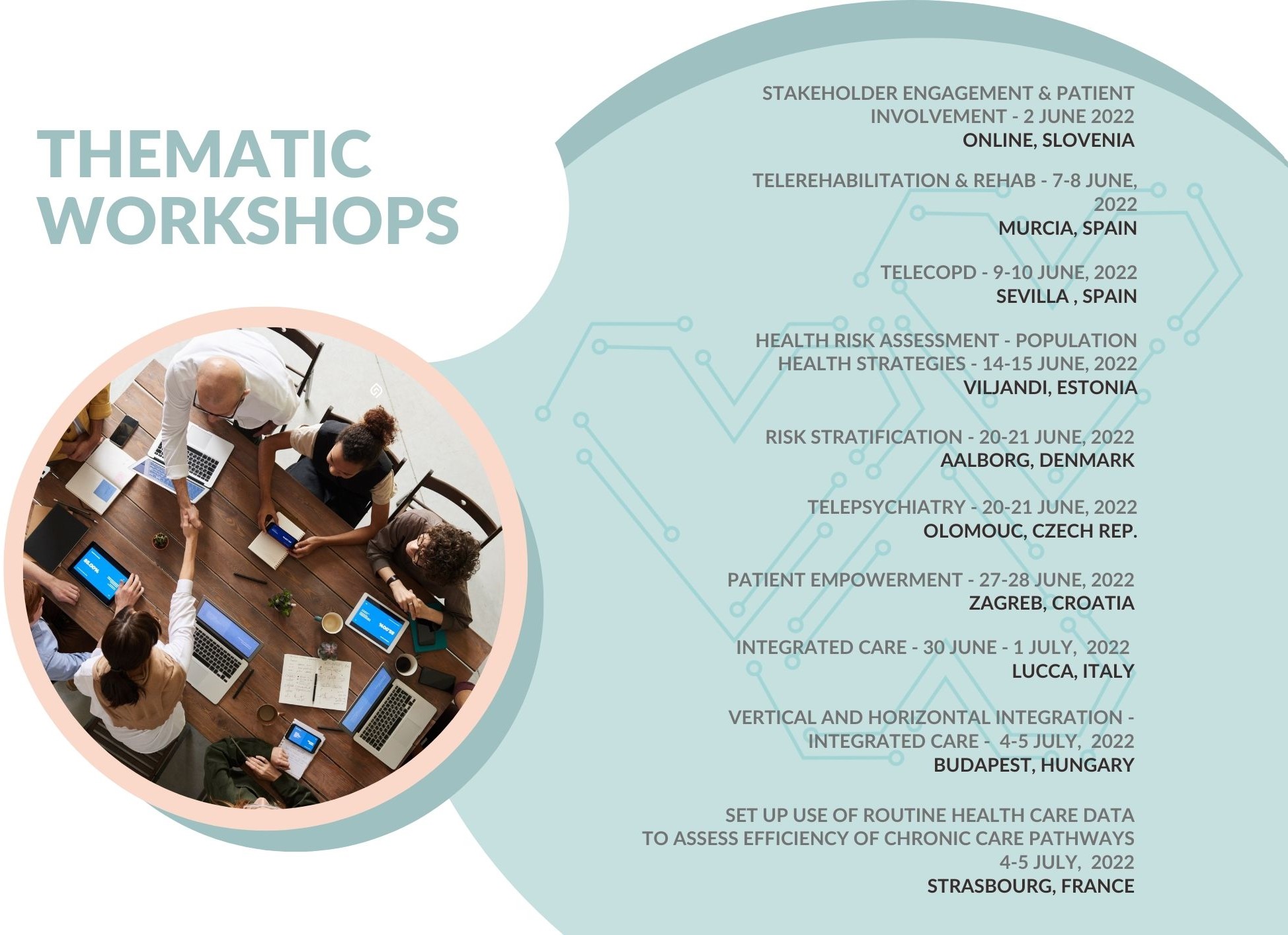 Basque Health Strategy in Ageing and Chronicity: Integrated Care Good Parctice (WP5)
20/21 June 2022: Region North Denmark
30 June/01 July 2022: Regional Health Agency Toscana
27/28 June 2022: Croatian Institute of Public Health
Catalan Open Innovation Hub on ICT-supported Integrated Care Services for Chronic Patients Good Practice (WP6)
14/15 June 2022: Viljandi Hospital Estonia
4/5 July 2022: National Healthcare Service Center Hungary
The OPTIMEDIS Model – Population Based Integrated Care Good Practice (WP7)
2 June 2022: The Health Insurance Institute of Slovenia
4/5 July 2022: Eurometropole of Strasbourg
Digital Roadmap Towards an Integrated Health Care Sector Good Practice (WP8)
7/8 June 2022: Servicio Murciano de Salud and the Foundation for Health Training and Research of the Region of Murcia
9/10 June 2022: Regional Ministry of Health and Families of Andalusia & Andalusian Public Foundation Progress and Health
20/21 June 2022: University Hospital Oloumouc
The results of the ten Thematic Workshops will inspire the Implementation Key Learnings-Workshops planned for spring 2023.
Got newsletter forwarded? Click here for subscribing for your own copy
Focus Article: Stakeholders play a significant role in JADECARE
In JADECARE (Joint Action on implementation of Digitally Enabled integrated person-centred CARE), Stakeholders are valued of utmost importance to co-create solution pathways to enable digital-enabled person-centred integrated care. Engaged stakeholders assure sustainability, increase impact and enable replicability and scalability of deployment of implementation successes of JADECARE beyond the Joint Action. Relevant stakeholders of JADECARE reinforce the capacity of health authorities to effectively address health systems transition.
Stakeholder Forums of JADECARE
The Stakeholder Forums of JADECARE are intended to facilitate the exchange of experience and the networking between the organizations participating in JADECARE and relevant Stakeholders in order to enrich and improve JADECARE's actions with the expertise, knowledge, experience and opinions of stakeholders. External Stakeholders, including health system representatives, researchers and academia interested in collaborating with the Joint Action are encouraged to discuss, identify and compile the potential needs and opportunities of health care systems related to the transfer and implementation of digitally-enabled person-centred care. Also, key health care industries/ developers are invited to contribute on how to enhance the competitiveness of the EU industry to create economic growth opportunities.
JADECAREs 1st Stakeholder Forum, held online on 10th November 2021, explored the topic "Implementation of digitally enabled integrated person-centred care – Needs and Solutions".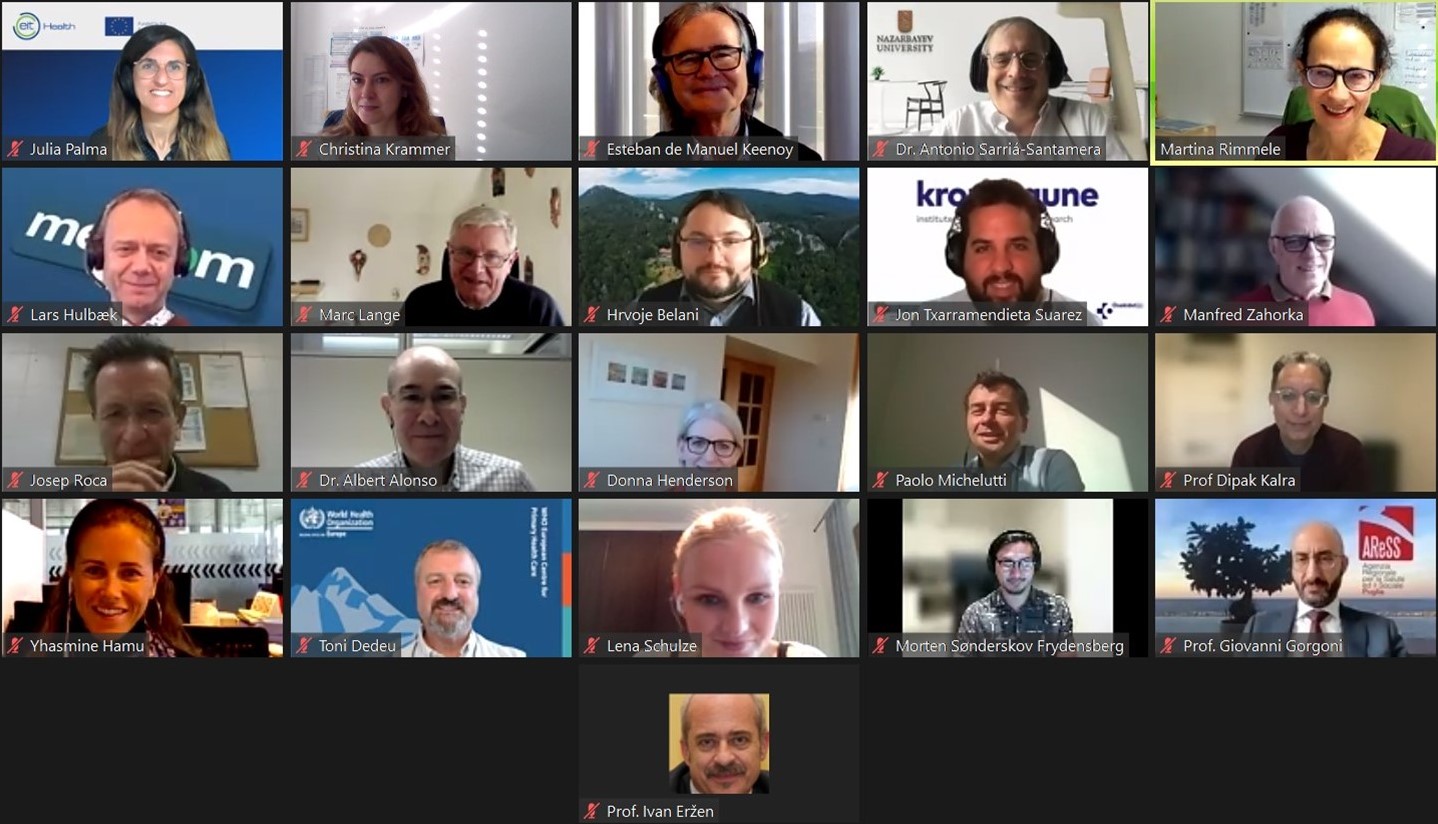 The 1st Stakeholder Forum started with a key note of Julia Palma from EIT Health Spain, highlighting "Challenges of implementation of digitally enabled integrated person-centred care". JADECARE was presented in an overview by Esteban de Manuel Keenoy from Kronikgune Institute for Health Services Research (KG), Spain, the Coordinator of JADECARE, and by the respective work package leaders for each of the original Good Practices.
High level panellist experts from different European organizations involved in digital health care (Antoni Dedeu from WHO (World Health Organization) Europe, Donna Henderson from TEC (Technology Enabled Care) Scotland, Marc Lange from EHTEL (European Health Telematics Association), Julia Palma from EIT Health Spain, Giovanni Gorgoni from AReSS (Apulia Government Agency for Strategic Planning in Health and Social Policies), Italy, Albert Alonso from IFIC (Intl. Foundation for Integrated Care), Hospital Clinic Barcelona, Antonio Sarriá-Santamera from Nazarbayev University (School of Medicine), Republic of Kazakhstan, Ivan Eržen from NIJZ (National Institute of Public Health), Slovenia, Bernhard Gibis from the National Association of Statutory Health Insurance Physicians (KBV) Germany, Lars Hulbæk from MedCom, Denmark, Dipak Kalra from i~HD (The European Institute for Innovation through Health Data), Hrvoje Belani from the Ministry of Health, Directorate for eHealth, Croatia) were discussing their expertise, knowledge, experience, visions for opportunities and opinions with participants to enrich and improve the local implementation plans of JADECARE, focussing on the following subjects.
Digitally enabled integrated person-centred care, JADECARE and its impact:
Where do you see the greatest opportunities and what are the greatest challenges for digitally enabled integrated person-centred care in the near future (5 years)?
Which of those challenges do you envision to be tackled within JADECARE? Do you have ideas/suggestions for improvement of implementation plans according to your experience/knowledge?
Stakeholder Forum 2022: On 23rd of November 2022, Stakeholders of JADECARE will be once again invited to join this year's hybrid Stakeholder forum. An expert of the international integrated care community will give the keynote, the project status will be presented, and Next Adopters will share their implementation experience. Experts will discuss the most important current issues in fostering digitally- supported integrated care. Please revisit JADECAREs website at the beginning of November for the registration link.
The experts stated that technology can be the functional component to integrated care acting as a glue to join together the different layers that need to be ordered and put in alignment to achieve real integrated care. They acknowledged the importance of taking context into account as performed in JADECARE, the importance of implementation and governance leadership, and due to the COVID-19 experience, the enhanced chance of digitally empowering patients and citizens to take much better care of themselves and their own health as well as of digitally addressing the relevant pressure points in care. The importance of avoiding "pilotitis" in aligning with national health strategies in a comprehensive approach in order to support innovative sustainable digital health care solutions involving digital health determinants was emphasised, reaching from organic growth in regional projects over national governance strategies to a joint European endeavour.
Cross-sectoral collaboration:
What would be your suggestion how health and social services can better engage industry and academia to seek solutions to allow the transformation of healthcare systems into digitally enabled integrated person-centred care systems?
Where do you see the biggest opportunities for start-ups?
The experts highlighted the concept of "ecosystem strategy" starting digital transformation in the healthcare sector from the patient journey, to be organised for integrated practice from the beginning and involving a continuous dialogue of all players (academia, healthcare system and industry) to provide a health outcomes framework. Start-ups are advised to pursue solutions to enhance and enable current remote contact systems with artificial intelligence ("conversational intelligence") that are designed for easy use, keeping complexity behind the scenes, taking digital illiteracy of patients into account and keeping frugal innovation in mind. It was emphasised that a national digital healthcare strategy is important also in the context of healthcare industry and health care providers to agree on which direction they should and can develop their solutions. At the same time, the need was urged to listen to the voice of healthcare professionals from the beginning, who have to implement new digital tools, who have to adapt to and to take over the new tools, by having appropriate testing phases.
Use of data:
Where do you see the most relevant regulatory issues/conflictive points concerning the use of patient data that should be addressed by the healthcare systems in the near future?
The experts reminded the audience of the importance to involve lawyers to update legislation to support all developed digital opportunities of data sharing and exchange in order to meet the legal claims from the GDPR approach and the Medical Device Regulation". They emphasised the need for a national governance for mandatory user standards for data exchange which at the same time should be balanced between central requirements and local degrees of freedom and innovation. In addition the public communications of existing e-health services to raise awareness needs to be continually planned and implemented, enhancing direct digital interaction pathways between patients with healthcare services or healthcare stakeholders. JADECARE action implementers were advised to be aware of the different levels of data usage and therefore include those levels into the informed consent formats, transparent for all stakeholders, especially patients, in order to be allowed and able to make use of the data for upscaling.

Got newsletter forwarded? Click here for subscribing for your own copy
JADECARE Newsletter Subscription:
Load content below to proceed